Veterinary Critical Care
Veterinary Critical Care Nursing
My interest in veterinary critical care started after I met a fellow South African who at the time was a lecturer practitioner in critical care at Stellenbosch University during the 2006 "Coming of Age: A celebration of Critical Care" BACCN conference. Apart from catching up on news from home at the time alongside a discussion about the differences and in many ways, the similarities in nursing between the UK and South Africa, we started talking about changes in critical care practice that had been happening in the UK since 2000. It was interesting to note initiatives like Critical Care Outreach and the development of track and trigger systems were just being considered in South Africa at that time.
Thanks to a grant from the BACCN, I was fortunate enough to attend the Critical Care Society of Southern Africa in association with the World Federation of Critical Care Nurses, South African Burn Society and the Trauma Society of South Africa's 'Critical Care, Critical Times' Congress in Sun City, South Africa during August 2007. I subsequently presented an oral paper on 'Surviving Sepsis: promoting practice guidelines outside of ICU' and a poster presentation regarding the work of the Critical Care Outreach team at the Royal Berkshire NHS Foundation Trust. Whilst waiting for a plenary session to start I happen to chat to the person sitting next to me who happened to be a veterinary critical care nurse! I was fascinated to learn what made her attend a "human" critical care conference along with the significant cross over between the two specialities in terms of disease processes, treatment modalities, equipment used and general critical care nursing principles. This experience has stayed with me ever since and as a member of a team who have >12-15 pets between them animal love, care and attention are often a topic of discussion in our office. We even named our H@N phones after individual pets with an associated picture of said pet on the phone!
After taking over the mantle as BACCN Conference Director I've been working to establish links with some veterinary critical care nurses in the UK and I'm so excited to say I've finally succeeded and as result this year we'll have 4 critical care nurse talking about their work as veterinary critical care nurses as well as presenting 3 case studies that demonstrate the significant amount of crossover between animal and human critical care nursing.
I therefore have the great pleasure to introduce:
Laura Edwards, RVN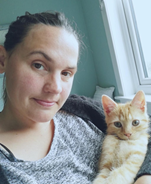 Veterinary Nursing was her second career after 10 years working in Stage Management. She then took a leap of faith in 2011 and started working at Edinburgh University's 'Dick' Vet Small Animal Hospital as an animal care assistant. The hospital put her through her nurses training and in 2017 she qualified and registered with the RCVS as a Registered Veterinary Nurse.
She was employed with the Emergency and Critical Care department where she is involved in all aspects of nursing their most sick patients. Her job involves teaching Vet students and Interns, in all the practical aspects of critical care nursing. Her love of this part of her job naturally led her to seek further teaching opportunities. In 2019 she was employed at Scotland's Rural University College as a lecturer on the Level 3 Diploma in Veterinary Nursing.
Between teaching and her continued clinical work, she is always looking for more ways to communicate what a fantastic career Veterinary nursing is. This is not always well understood and the opportunities within this career are what you make them. She is hoping a stronger relationship with her "human" critical care nursing counterparts will create an opportunity for shared learning and expand the scope and opportunities for Registered Veterinary nurses.
Danielle Barrett, RVN BSc (Hons)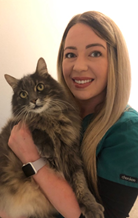 Danielle works as an Emergency and Critical Care and Out of Hours Veterinary Nurse at the Edinburgh University Hospital for Small Animals. She qualified as a Registered Veterinary Nurse in 2015 having trained and worked within general practice and animal charities. Once graduated, she started working for Edinburgh University's 'Dick' Vet Small Animal Hospital, within the Internal Medicine department. This role eventually led to Emergency and Critical Care as her specialty. She works closely with a small team in the Intensive Care Unit, assisting with referral, emergency, and critical cases, as well as vet students and intern teaching/guidance.
Her nursing role is dynamic, challenging and a passion. Critical care veterinary nursing creates the opportunity to expand her knowledge daily. She has just completed the ECC Vets Now certificate, RECOVER initiative training and are undertaking the Edinburgh Teaching award 'Associate Fellow'.
She spends a lot of her spare time studying but when she gets the chance, she very much enjoy spending time with friends and family. Time away from clinics and concentrating on health and wellbeing to be the best nurse she can be.
Lindsey Ashburner, RVN VTS(ECC) CertVNECC AFHEA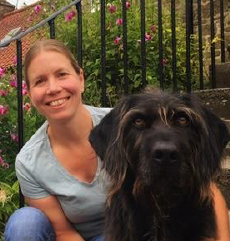 Lindsey first qualified as a Registered Veterinary Nurse in 2012 and started her career at a mixed practice. It was here that she found her passion for ECC and achieved the VetsNow certificate in emergency and critical care. In 2015 she started working at the Edinburgh University as a dedicated ECC nurse in their busy ICU department.
A big aspect of her job is teaching veterinary students. To improve her teaching abilities, she completed the Edinburgh Teaching Award – Associate Fellow. She uses her teaching skills to teach veterinary students, interns, residents and fellow veterinary nurses. She has set up an ongoing in-house seminar for nurses in the hospital where she regularly provides lectures on various ECC topics.
In 2017 she was awarded a scholarship form Edinburgh University which enabled her to complete her Vet Tech Specialist (ECC) qualification. Included in this scholarship was an opportunity to undertake several internships to gain experience of other ER/ICU's in both the USA and UK, attending ECC specific events including the European and International Veterinary Emergency and Critical Care Congress.
In her spare time, she enjoys running and hill walking with her husband and very energetic dog Fara. She is also mother to two cats who apparently rules the roost in her house.
Lucy Speak, RVN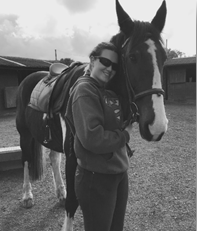 Lucy qualified as an RVN in 2014 from Myerscough college after spending two years training in a hospital in Yorkshire. Prior to this she had started her career as an assistant in mixed practice. Once qualified she began working for a practice providing OOH care for local practices alongside a general practice position working for a veterinary charity.
Since then she has worked in multiple referral practices with her main areas of interest being emergency and critical care, orthopaedics and neurology. For the last few years, she has worked in ICU at the Hospital for small animals in Edinburgh. During this time, she has also qualified as a veterinary physiotherapist, canine hydro-therapist and veterinary osteoarthritis accredited professional. Currently she is working towards her Masters in physiotherapy, ECC nursing certificate and Edinburgh teaching.
Martyna Godniak, RVN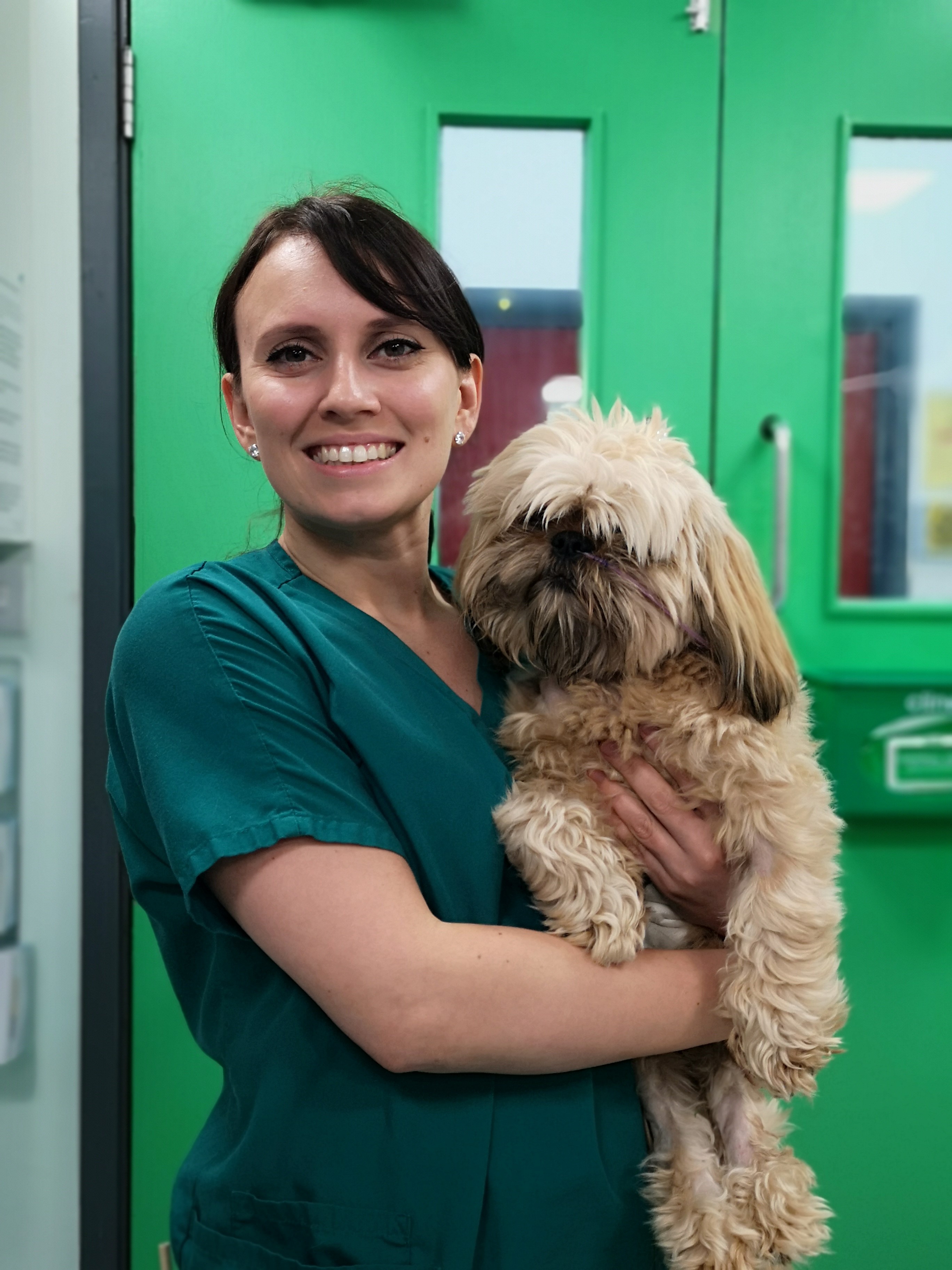 Martyna Godniak graduated from Edinburgh College (previously Telford College) in 2014 achieving Level 3 Diploma in Veterinary Nursing. During her studies she received practical training at the Dick Vets' Hospital for Small Animals (HfSA) where, after graduation, she was employed as a rotating nurse, working in all departments of the hospital. In 2016 she moved to the Internal Medicine department where she worked for a year before moving to the Emergency and Critical Care department where she works to the present day. In 2018 Martyna graduated from Myerscough College receiving a Higher Education Diploma in Clinical Veterinary Nursing and in 2019 she achieved Diploma in Advanced Veterinary Nursing. She is also starting the Emergency and Critical Care Veterinary Technician qualification in November this year.
Martyna is interested in all aspects of ECC nursing as well as pain and stress management in hospitalised animals. Her main interests outside of work are martial arts and other forms of fitness, as well as travelling. She is also a mum to a mischievous cat Gary who she adopted in 2013 after meeting him at work.

I cannot wait for this session to learn more about this unique group of nurses and to continue to foster a blossoming partnership.
Karin Gerber, BACCN Conference Director