Central South
Welcome
Welcome to the Central South Region's information pages. You will find details of the latest BACCN news in the region together with information on upcoming events, and contact details for Central South's Committee Members.
If you would like to get involved in this region, we would love to hear from you!
Best wishes
Mark
Mark Wilson
Chair, Central South Regional Committee
mwilsonr@yahoo.co.uk
BACCN Central South – Major Incident Simulation Study Day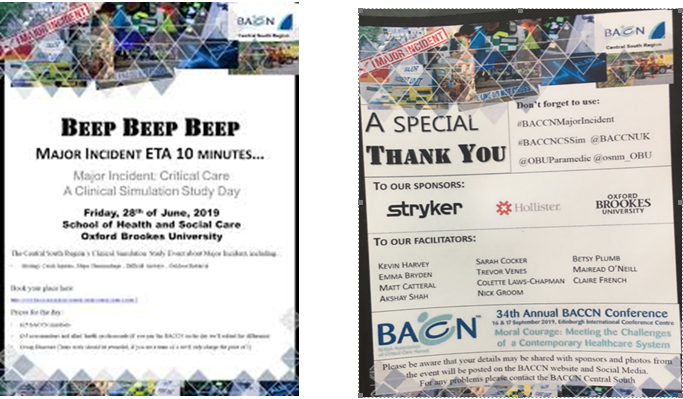 Here's a short summary of the twitter activity on the day: https://wke.lt/w/s/nz-6eW
Hope to see you again at our next event. Why not join the BACCN and become part of the largest group dedicated to the art and science of Critical Care Nursing https://www.baccn.org/
This is what some of our delegates said of their experience on our study day:
Great Day
Awesome, brilliant de-brief for major haemorrhage
Fantastic day
I felt I needed more of a detailed debrief after triage session as I didn't understand the paperwork
I loved that the simulations were linked to the triage event
I would like more strategic planning and overview of what actually happens in the background of a major incident
I'd really like Kevin's details to learn more about planning advice
Excellent day, thoroughly enjoyed it
Enjoyed the inter-professional opportunity and the perspectives gained
Scenarios well-presented and managed
Great planning interesting to see and take other roles
More simulation please!
Food was amazing
Pre-conference materials to understand the triage process would be useful
Karin Gerber, BACCN Conference Director
The Central South AGM 2019
The Central South region's Annual General Meeting took place on the 30th January 2019. The chairman's report and minutes from the meeting can be viewed below.
Twitter Engagement
Please find a summary of our / your Twitter engagement with regards to the recent "Swimming against the stream: being well and wellbeing within the critical care team HERE. Please feel free to use as part of your CPD / revalidation reflection.
The BACCN Central South Committee
Your online comments

wakelet.com
Central south Study Day 31st October 2018
Please see below presentation from the recent study day.
Factors Influencing Nurses intentions to leave adults Critical Care areas- A Mixed method theory.
Psychological Debriefing and positive Story telling
Link Members Needed!
BACCN Link Nurses play a crucial role in developing the Central South region and the Committee.
Key Roles:
Establish a communication point for BACCN in your local critical care area
Hold and distribute BACCN membership application forms and information as required
Receive and distribute information on BACCN activities including regional and national study events
Identify the needs of local members and communicate this to the committee
The role remains fluid as the needs of the region change. Your regional committee will provide you with regular communication and updates, helping you ro contributie to the establishment of an effective communication system across the region.
If you are interested in becoming a Link Member for your hospital/unit or would just like to receive further information on the role please email us at support@baccn.org