Southern Events
Current Events
Event Name: Pump and Perfusion
Event Date: 7th June 2019
Event Location: Kings College London, Institute of Fetal Medicine, 16-20 Windsor Walk, London SE5 8BB
This study day will be discussing, key Cardiac and Renal issues in Critical Care.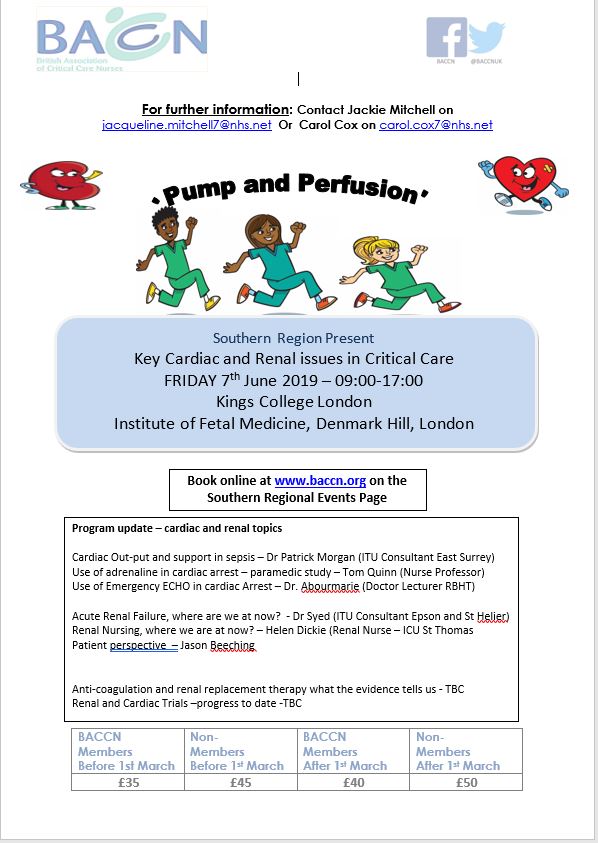 Price:
Earlybird (available before 1st March 2019)
BACCN Member - £35
Non-Member - £45
On or after 1st March 2019
BACCN Member - £40
Non-Member - £50
---
Study event 8th June 2018
The Southern Region hosted a very successful and thought provoking study event on June 8th 2018 in Brighton. The topic of the day was major incident and brought together a range of different speakers focusing on different aspects.
A key theme that emerged is preparedness. Considering the number of incidents that the NHS has recently responded to - and indeed continues to manage it was a very timely reminder. Many questions were raised on the varied topics for delegates to ponder on how this applied to their local context.
Are you familiar with the language of major indecent?

Do you know what associated acronyms mean?CCSCATT, CBRN, METHANE

What defines a mass casualty event and where would you find the resources to guide you?

What do you think the long term impact on your services would be, apparently it took three weeks after the Manchester bombing before elective surgery recommenced.There would also need to be long term plans for rehabilitation and psychology follow up.

Do you have multidisciplinary training for major incident that test systems?

Have you thought about the practical considerations for example what to do with patient's property – do you need an alternative to the standard plastic bags? Do you have a system for issuing passwords?

How do you communicate during a major incident between departments?Several speakers alluded to the fact that live newsfeeds / witnessing the scene from their workplace enabled them to 'pre-prepare' before the major incident was officially declared giving vital time to maximize resources.

Do you know your toxidrome nmemonics including SLUDGE/ DUMBBELLS?

Do you have a system that is organized for debrief?Who would facilitate this and are they prepared?

How would you access 'extraordinary resources' such as Combipens and Cyanokit in large quantities?

Are you prepared for injuries you don't normally see such as blast injuries and the unusual patterns of trauma associated?
It is lessons learnt from previous events that have shaped the way we prepare and plan for the future, but by attending events such as this study day we can all be better informed. Thank you to all the speakers for sharing their experiences and expertise.
Please see resources for the event below.