Yorks & Lincs Events
Current Events
This event is cancelled. Apologies for any inconvenience caused.
Event Name: North of the Diaphragm
Event Date: Wednesday June 3rd 2020
Event Location: The Source Sheffield, 300 Meadowhall Way, Sheffield S9 1EA
Start time: 08:45
Finishing Time: 16:15
Topics include:
Tracheostomy care, ECMO, SALT assessment, nurse led weaning, patient experience of a tracheostomy, Flu/ARDS care and mangement, interpretation of ABGs, staff movement from critical care and newly qualified staffs experience of critical care. These will be subject to change.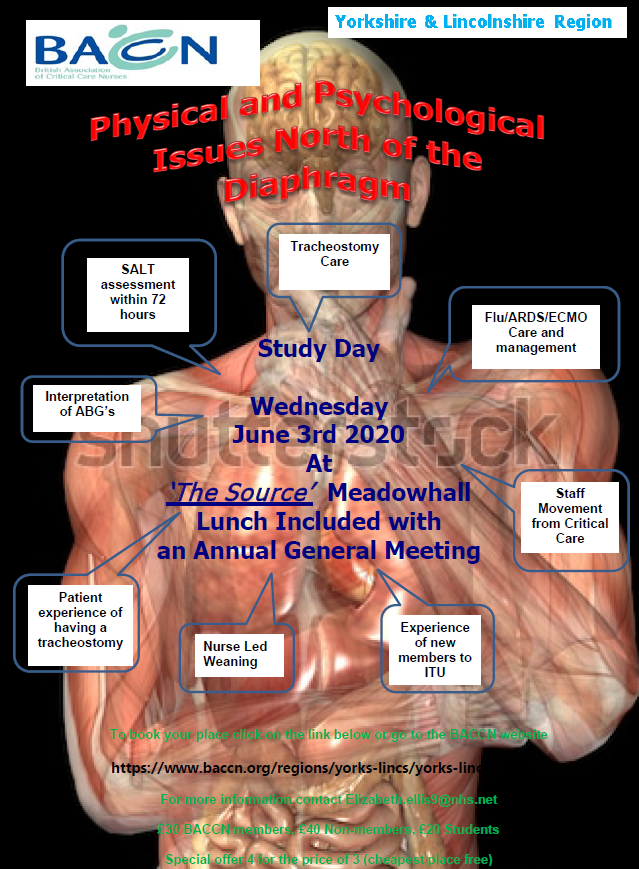 Price
Member: £30
Student: £20
Non Member rate: £40
Are you booking a group for this study day? We have a special offer of 4 spaces for the price of 3, to book this offer please contact support@baccn.org