Events
BACCN Events
BACCN host a number of events both nationally and regionally. The BACCN Annual Conference takes place each September. Information on all BACCN events can be found on the boxes above - for Annual Conference and Regional Events - and external events can be found below.
External Events
Events relevant to our members will be advertised here upon request and approval of the BACCN National Board. If your organisation is interested in utilising this space to advertise an upcoming event, please contact support@baccn.org for more information.
Intensive Care Medicine e-learning programme
Health Education England e-Learning for Healthcare has worked with the Faculty of Intensive Care Medicine to develop 6 sessions for the Intensive Care Medicine e-learning programme.
The sessions take approximately 20 to 30 minutes to complete and comprise the following topics:
Care of the Collapsed Pregnant Patient
General Aspects of Obstetric Critical Care
Decision-making Surrounding Escalation of Treatment
Introduction to Intensive Care Medicine
Long-term Outcomes of Critical Illness.
There is also a specific COVID-19 session on decision-making surrounding escalation of critical care which is available in the Coronavirus e-learning programme.
The e-Learning for Intensive Care Medicine (e-ICM) programme provides 9 modules of resources (e-learning sessions, links to open access review articles, guidelines and multiple-choice questions) covering the syllabus for training in intensive care medicine.
While the resources will be particularly useful for trainees undertaking training in intensive care medicine, they will also be of interest to anyone caring for critically ill patients.
To access the sessions, please click HERE.
The 40th RCSI Annual International Nursing & Midwifery Research and Education Conference
Free live streamed events from Tuesday 23 Feburary to Wednesday 3 March 2021
The Call for abstracts is open and this year again the IACCN will be hosting a Critical Care strand following invitation from the RCSI Faculty of Nursing & Midwifery. For more information please see our FLYER
Electronic and Biomedical Engineering Conference & Exhibition (The EBME Expo) 2021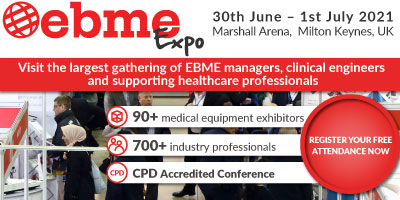 EBME Expo, 30th June – 1st July 2021, Marshall Arena, Milton Keynes
​The EBME (electronic and biomedical engineering) conference and exhibition started in 2009 as a way of improving healthcare through the sharing and application of knowledge from experienced professionals involved in the management of healthcare technology.
Following on from the huge success of last year's EBME Expo, the 2021 edition will again feature a sold out exhibition hall running alongside a CPD Accredited conference, which will play host to leading speakers from the sector. The EBME Expo also provides a range of workshop opportunities for vendor led sessions and hands-on training throughout the event.
Our exhibition will continue to be organised in line with the global 'All Secure Standard' for the safe opening of exhibitions.
The EBME Expo is completely free to attend, so whether you would like to attend the exhibition, conference, workshops or all three, you can register HERE now.
Guy's & St Thomas Critical Care Nursing Symposium (More Tales from the Riverbank) POSTPONED
Guy's & St Thomas' is one of the largest NHS Trusts in the UK, with over 14,000 staff; an annual turnover of more than £1.2 billion; and 1.6 million patient contacts a year. Our hospitals have a long and proud history, dating back almost 900 years and have been at the forefront of medical progress and innovation since they were founded. We continue to build on these traditions and have a reputation for clinical, teaching & research excellence. The Critical Care Department is one of the largest in the UK, consisting of more than 90 beds. Our patients are admitted from a range of specialties, including medicine & surgery, cardiac, haematology, vascular, thoracics, renal, and ENT. As a tertiary referral centre, it is nationally and internationally renowned for its services, with advanced therapies including renal replacement therapy, plasma exchange, advanced respiratory and ventilatory support such as ECMO. The Critical Care Nursing Symposium (More Tales from the Riverbank) is postponed. We will update with the new date as soon as possible.
Full details HERE