ICU staff release song Every Breath You Take
14th Dec 2020
A 100 strong Zoom choir made up of ICU staff is releasing a re-make of classic Police track 'Every Breath You Take' in a bid to secure the Christmas number one spot and raise funds to support NHS staff recovery from the trials of 2020.
Known as the ICU Liberty Singers, the choir began life as an attempt to bring some fun and respite to ICU workers after the toughest year in history. Choir members include ICU staff such as nurses, doctors and allied health professionals who have been working on the frontline of healthcare.
As more data emerges, it is now clear that around 1 in ten people who catch COVID-19 end up needing hospital treatment. Of those, around one third end up in ICU. This is why limiting the spread really matters – if 1000 people catch it, 100 will end up in hospital, and over 30 will end up in intensive care. Right now, over 20,000* new cases A DAY are being reported, with almost 1800* people in intensive care due to COVID.
While the country has had varying degrees of lockdown to contend with – the relentless pace of caring for the most seriously affected has not changed hugely for ICU staff and now they face going in to winter – traditionally hugely challenging in a normal year – with a second wave hitting hard.
Working on the basis that music and singing are immensely relaxing for the mind, Choir Director Kari Olsen Porthouse contacted Dean of the Faculty of Intensive Care Medicine, Dr Alison Pittard and offered to run a pop up choir – with 4 singing sessions and a remote recording of one of the songs.
Kari said "Singing is immensely powerful for helping establish and maintain good mental health – but something really special happens when we sing together and the effect is even more powerful. There is a sense of belonging, and a sense of a team working to deliver something beautiful. That perfectly captures the strength and teamwork of ICU staff this year and the chance to give them something back and recognise their phenomenal efforts is a privilege".
Jackie Shears, from NHS Digital, and a member of one of Kari's other choirs, heard about the choir and promptly penned a carefully re-worded version of the Police hit 'Every Breath You Take' to express the extraordinary contribution of ICU workers across the country this year – and to encourage the public to continue taking recommended precautions to help prevent more demand on ICU's.
Jackie said "I really wanted to recognise that while we are all frustrated by the restrictions, ICU staff have had minimal respite since March, have continued to provide high levels of care and professionalism, identifying treatments and working out how best to care for incredibly unwell people. The second wave comes at the end of an unprecedented year, without let up – so the song includes a plea on their behalf not to let levels rise further and create any more demand than is necessary".
The 100 strong choir includes ICU staff from every region and 'met' for the first time, on Zoom, on November 25th, and had an hour of hilarity, singing a range of songs. They were able to 'let go' of the enormous pressure they have faced all year, for a short hour and come together instead in a spirit of fun and relaxation, as evidenced by this tweet after the first rehearsal.
Since then, legal permission was granted by SONY ATV, which owns the rights to Every Breath You Take (I'll Be Watching You) and the opportunity to release the song took shape. The Choir had a second group rehearsal and then used videos of Kari conducting each part so they could practise in private, between rehearsals – and sometimes even during their breaks on shift!
The track comprises 223 individual vocal recordings sung by the choir members, recorded in their own homes and then blended to create a 'virtual choir'.
The single is released on December 18th and will be available for download and streaming through the usual channels
Alison Pittard, Dean of the Faculty of Intensive Care commented "This has been such a fun way to recognise and thank ICU staff. It has been an utterly extraordinary year and I am beyond proud and grateful to all ICU workers for their skill, dedication and professionalism in the face of unprecedented circumstances. Marking this in as public a way as possible seemed only appropriate."
The group are planning to take on Liam Gallagher, Jess Glynne and Robbie Williams in a bid for the top spot. All money raised will go to create a fund, managed through the Faculty of Intensive Care Medicine, to provide support for staff that they feel will have a positive impact on their Wellbeing and Mental health after an extraordinarily impactful year.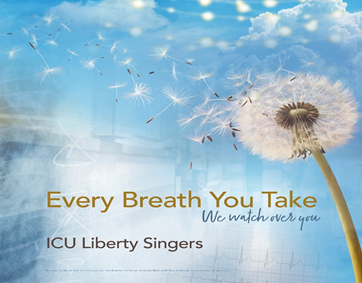 Members of the BACCN National Board including our Chair, Nicki Credland and Professional Advisor Catherine Plowright (who both feature in the associated video clip) alongside so many of our members have joined this choir despite the fact that a host of us cannot actually sing. We are so proud to have been involved with venture where the main focus was on promoting wellbeing through collective singing, with the charity single as the cherry on the cake.
View a link to the video here.
You can pre-order the song now via: https://orcd.co/lwnv105
We hope we've done everyone within the Critical Care family proud!
If you've been involved why not let us know via social media by tagging us in @BACCNUK (twitter) & baccnuk (Instagram) #iculibertysingers #proudtobeacriticalcarenurse #yearofthenurseandmidwife
Karin Gerber
BACCN Conference Director