3M Ask the Expert

TOPIC: Advanced Skin Protectant
We asked 3M:
Q: "How can 3M™ Cavilon™ Advanced Skin Protectant improve patient outcomes in the Critical Care Setting?"
---
A: 3M™ Cavilon™ Advanced Skin Protectant forms a film barrier intended to cover and protect intact or damaged skin. It is effective in conditions where wet and or dry skin is continuously exposed to moisture and caustic irritants such as faeces, digestive fluids, wound drainage and urine. The protective film barrier reduces pain associated with incontinence associated dermatitis (IAD) and prevents, stops and / or reverses the effects of IAD (Brennan et al, 2017). Cavilon Advanced Skin Protectant can also be used in areas exposed to friction and shear allowing / enabling the skin to heal.
The complexity of maintaining life support yet preventing complications and maintaining skin integrity in the critically ill patient is without doubt a significant challenge.
Providing appropriate skin care not only impacts on skin integrity but also plays an important role in the prevention of pressure ulcers and infection. Reducing pressure ulcers is a major priority for clinicians in this care setting.
Diligent skin care acquires great magnitude for critically ill patients in contexts of poor nutrition, immunosuppression, poor resistance, immobility, impaired capillary permeability and potential generalised cellular hypoxia. Of course, recently, this has been especially apparent due to COVID-19. This devastating disease has placed many patients in respiratory distress and inflammatory shock, resulting in severe pathology and long-term admission in critical care.
One of the consequences was a surge in patient numbers in critical care units, where maintaining life support is fundamental, combined with the added challenge of pulling in new or unfamiliar ICU staff to support and deliver care. This situation has spotlighted the need to consider how we deliver skin care to this most vulnerable patient group.
Critical care setting data suggest that faecal incontinence may be an underestimated problem (with surveyed prevalence between 9 – 37% of patients), also associated with a high use of nursing time (Bayōn Garcia et al, 2011). A recent best practice document titled the Prevention and Management of Moisture Associated Skin Damage (Fletcher, J. Beeckman, D. Boyles et al, 2020), stated that it is vital to recognise patients at increased risk of IAD (e.g. liquid stool or diarrhoea) and implement appropriate prevention strategies. It also highlighted the need for patients with incontinence associated dermatitis (IAD) to use a skin protectant that can alleviate pain or improve comfort; and for patients at risk of IAD to use a skin protectant.
Cavilon Advanced Skin Protectant is a breakthrough technology for skin protection and features 3M's revolutionary polymer: cyanoacrylate technology. It is designed to help manage moderate to severe skin damage and protect at-risk skin. The ultra-thin yet highly durable barrier is able to attach to wet, weepy surfaces and create a protective environment that repels irritants and supports healing.
Cavilon Advanced Skin Protectant has other benefits: it can provide an effective barrier that has been shown to reduce the pain of managing IAD, (Brennan et al, 2017). What's more, application is only required twice a week (Brennan et al, 2017), regardless of prevention or treatment, even in the presence of a continuous irritant. The single-use applicator reduces the potential for cross-contamination.
For IAD prevention and treatment, it is provided as a 2.7ml applicator. Recently launched is a smaller applicator 0.7ml, ideal for reduced areas such as peristomal, periwound and peritube skin.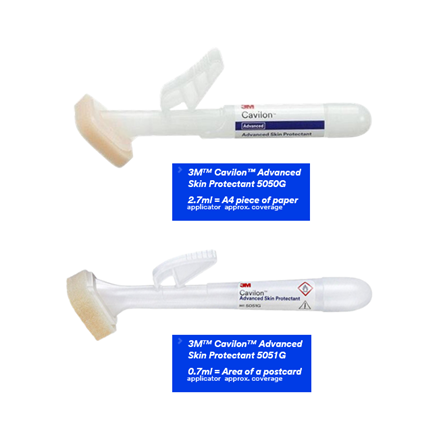 A recent webinar titled "Skin Damage in the ICU in COVID-19 Times" focused on the experiences of two frontline workers and how they managed skin care within the complexity of maintaining advanced life support. This webinar can now be accessed on demand. Simply complete the form and the webinar will play on demand
Skin Care in ICU During COVID-19 Times
For more information on 3M™ Cavilon™ Advanced Skin Protectant, go to www.3M.co.uk/endIAD
References:
Bayōn Garcia C, Binks, R, De Luca E et al (2015). Prevalence, clinical management and risks associated with acute faecal incontinence in the critical care setting: the FIRST questionnaire survey. Critical Care 15: P480
Brennan, Mary R.; Milne, Catherine T.; Agrell-Kann, Marie; Ekholm, Bruce P. Clinical Evaluation of a Skin Protectant for the Management of Incontinence Associated Dermatitis: An Open-Label, Nonrandomized, Prospective Study. J of Wound, Ostomy & Continence Nursing. 2017. 44(2):172-180.
Fletcher, J. Beeckman, D. Boyles et al, (2020) International Best Practice Recommendations: Prevention and Management of Moisture Associated Skin Damage (MASD). Wounds International. Available online at www.woundsinternational.com
Meet the Expert

Victoria Murray - Scientific Affairs. 3M Medical Solutions Division. North Europe Region
Victoria works across the North Europe Region as Scientific Affairs and Education Specialist, focusing on skin integrity and wound management. She has been a member of the 3M team in Australia, New Zealand, the UK and North Europe for over 16 years. Throughout that time she has been closely involved in many aspects of the business – ranging from new product introductions to research, business and marketing strategies, combined with a consistently strong and dedicated focus on training and education within 3M and also for clinicians. Victoria's background is in Tissue Viability Nursing and as a District Nursing Sister and she has also worked in the acute and critical care setting.
She is passionate about using evidence-based and best practice principles to educate and ultimately improve the lives of people living with acute and chronic skin and wound care conditions. She firmly believes that the prevention of skin breakdown is key and that it should remain our number one priority.